NBI Clearance Online Application is a new implemented system to get an NBI Clearance faster, easier and more convenient to applicants. With just a computer and an internet connection, an applicant may conveniently apply for an NBI Clearance Online 2021.
The National Bureau of Investigation Clearance or NBI Clearance is one of the most known clearances in the Philippines needed by the citizens in different purposes it may serve. It is mainly used as a reference by hiring companies or organizations to check if its holder has no criminal records in the entire country.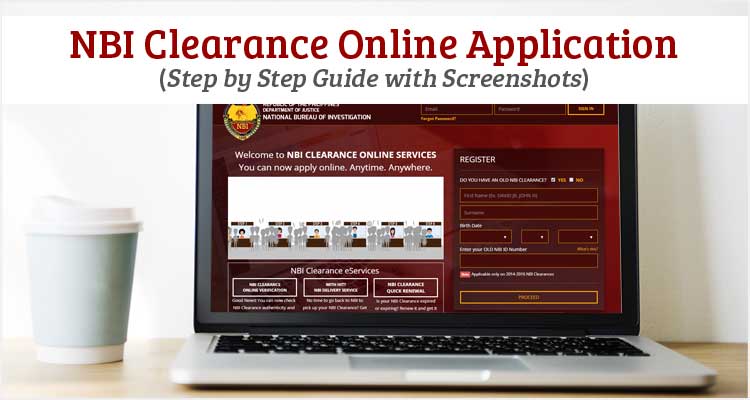 On the last quarter of the year 2017, NBI started distributing a Multi-Purpose NBI Clearance. It means that it can be used in any transactions and specific purposes has been removed. It may be used for local employment and at the same time, it may also be used for travel abroad, passport application and several others.
NBI Clearance Application Before and Today
Most of the applicants who have experienced the situation on getting an NBI Clearance before surely appreciates the new NBI Clearance Online Application system. It's easier to apply online and to pay for the clearance fee at the selected payment option.
However, personal appearance to the National Bureau of Investigation branch or center is still necessary for the biometric fingerprint scanning, photo capturing and getting the NBI Clearance.
It takes only 51 seconds to watch this video from NBI that clearly shows the new easy steps in NBI Clearance Online Application.
Sometimes the NBI Server runs slow making this video load slow as well. Alternatively, you can watch it on Vimeo.
NBI Clearance Requirements
The printed NBI form with Reference Number (final output of NBI Online Application)
Receipt of Payment (if applicable)
2 Valid IDs (Valid Passport, Voter's ID, Driver's Licence, SSS ID, TIN ID, UMID ID, School ID, Postal ID, NSO Birth Certificate, etc.)
NBI Clearance Fee
The request for an NBI Clearance only costs ₱130.
NBI CLEARANCE ADVISORY:
The PUBLIC is hereby advised that effective 12 March 2018, the NBI will be charging a fee of ONE HUNDRED THIRTY PESOS (Php130.00) per clearance certificate from the original ONE HUNDRED FIFTEEN PESOS (Php115.00) to comply with Documentary Stamp Tax (DST) rate adjustment.

This is pursuant to Republic Act No. 10963, otherwise known as the "Tax Reform for Acceleration and Inclusion (TRAIN) Law" and Revenue Regulations No. 4-2018 issued by the Bureau of Internal Revenue (BIR).

–NBI MANAGEMENT
NBI Clearance Validity
NBI Clearance is only valid for 6 months to 1 year. This is because there is no assurance that you will not be involved in any criminal cases in the next months after the acquisition of your clearance.
Step by Step Guide on NBI Clearance Online Application 2021
1. Go to the NBI Clearance Online Application Website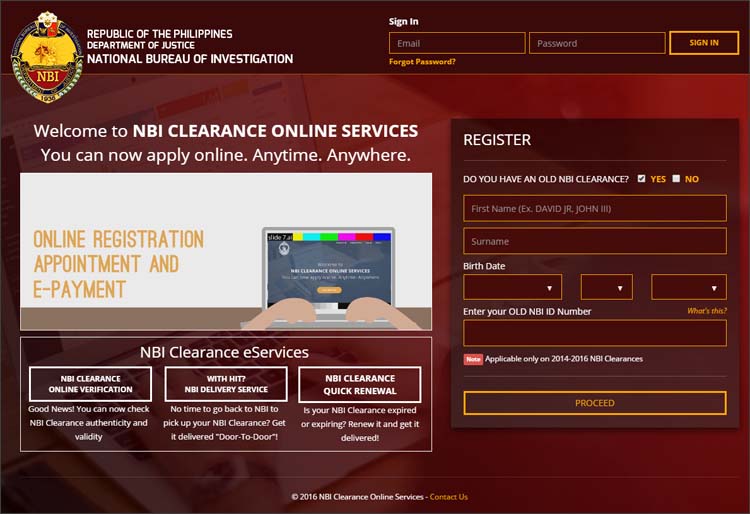 The very first step to begin with the NBI Online Application is to visit their official website for NBI Clearance. Go to https://clearance.nbi.gov.ph/.
2. Register a New Account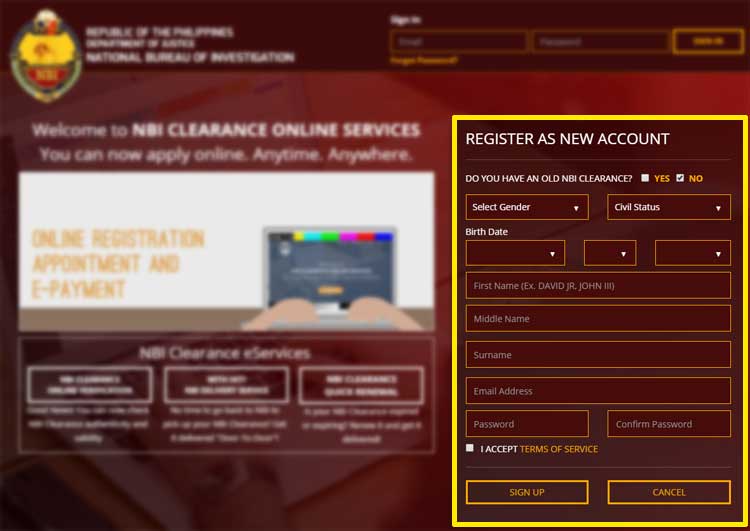 The landing page looks similar/exactly (if no changes have been made) to the image above. What you want to do is to Register A New Account. In the first question, DO YOU HAVE AN OLD NBI CLEARANCE? Assuming this is your first time, choose NO. Then fill-up the registration form with the correct information.
Make sure to input an active email address since an account activation email will be sent to the email address afterwards. Make sure to memorize your password, too. Check the box for I ACCEPT TERMS OF SERVICE ACCEPT SIGN UP. A confirmation pop-up up message should appear to make sure the information is correct and you are willing to proceed. Then, click OK.
3. Sign in to your NBI Clearance Account

After you click the SIGN UP button, an account activation email should be sent to your in few minutes. But you can skip this step if you don't receive any email from NBI. Sign in to your account by entering your email address and password on the sign-in form above. Then click SIGN IN button.
4. Fill-up and Save the NBI Clearance Application Form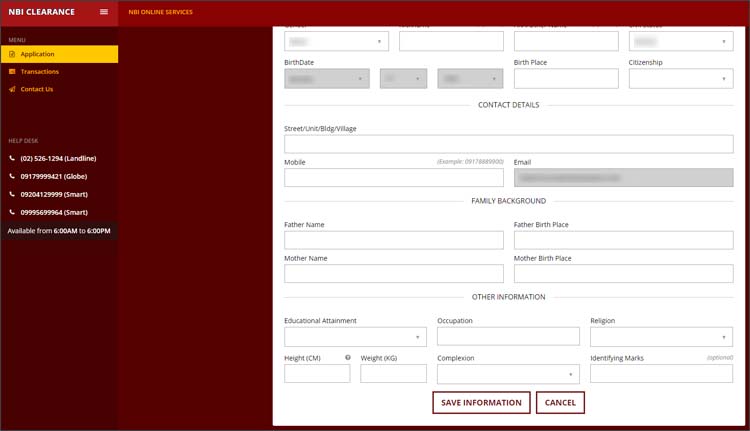 In your account overview after you have signed in, the NBI Clearance Application Form will be shown. Fill-up the blank fiends but you can't change anymore the permanent one's. Those are the details you entered in the registration form. Then, click the SAVE INFORMATION button.
5. Apply for Clearance and Enter PIN CODE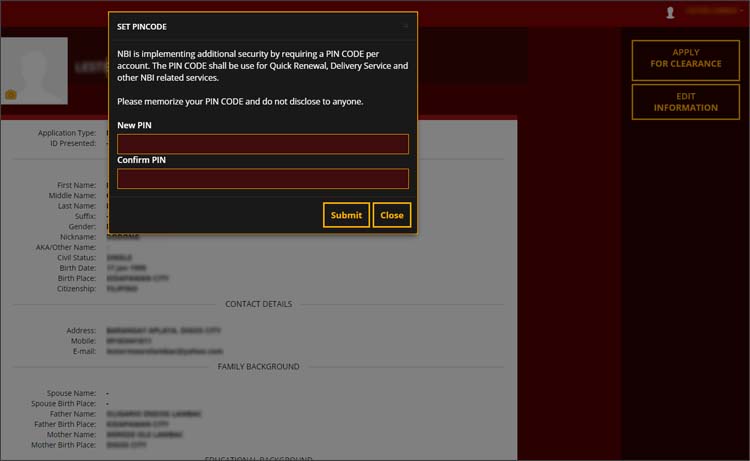 Click the APPLY FOR CLEARANCE button located at the upper right corner of the webpage. After clicking, you'll be asked to set-up a PIN CODE for your NBI Clearance Account. Set a 6-digit PIN CODE of your preference. Memorize it or put in on paper.
6. Enter the ID to be Presented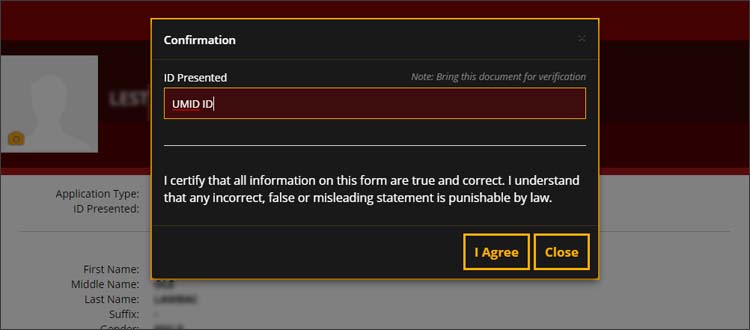 This is to confirm on what ID you will be showing upon claiming your NBI Clearance in the office. Enter at least 1 Valid ID.
7. Set an Appointment Schedule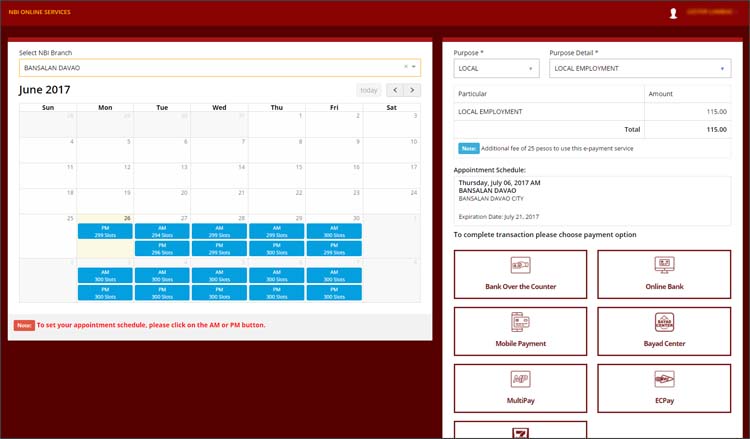 The next step is to select an NBI Branch where you will claim your NBI Clearance. You can scroll below the Select NBI Branch dropdown menu and find the NBI Branch in your area.
Then, chose the date of your appointment or the date where you'll go to the office. The blue boxes separated by AM and PM are your choices which means slots are still available. For example you want to go to June 30, 2017 in the afternoon, chose the lower blue box which shows PM in June 30 calendar.
Next, select the Purpose of the Clearance is it to be used in Local or Abroad. If you are using it as a job requirement in your town, chose LOCAL for the Purpose Field then chose LOCAL EMPLOYMENT for the Purpose Details Field. The amount for the clearance should be shown.
8. Select Payment Option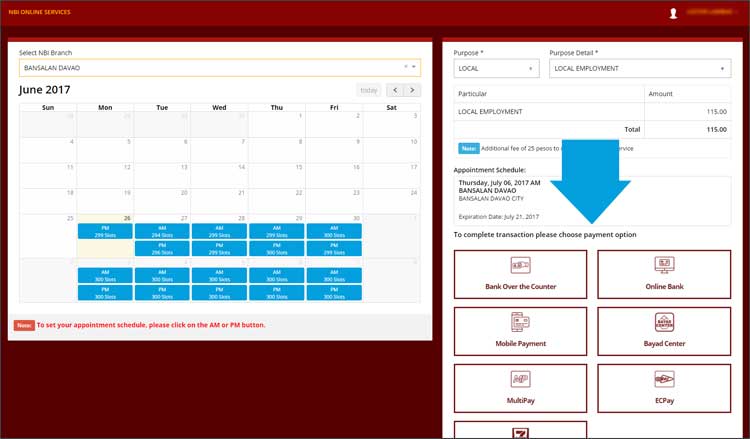 Lastly, select the mode of payment to complete the transaction. Options will be given and you can pay through Bank Over the Counter, Online Bank, Mobile Payment, Bayad Center, MultiPay, ECPay and 7-Eleven Branches.
The most common mode of payment is through 7-Eleven Branches or Bayad Centers. However, you can also pay at the NBI Clearance Center/Office.
The payment options are just for you to conveniently pay for your clearance beforehand so you won't have spend long waiting time when you personally go to the center/office to get your clearance.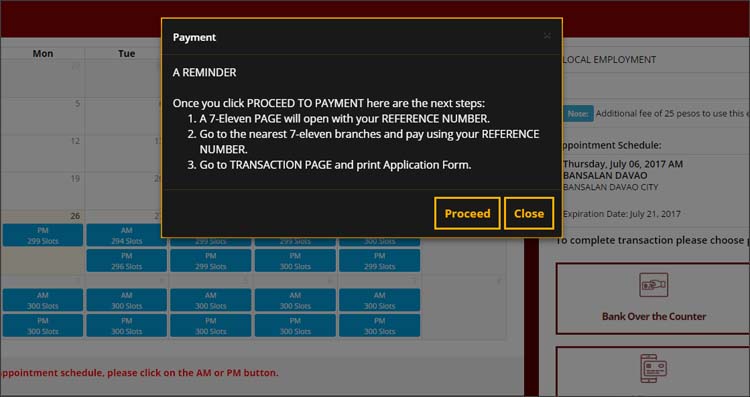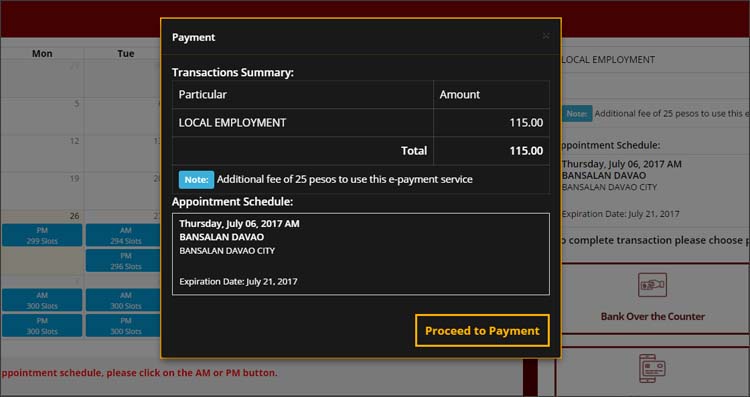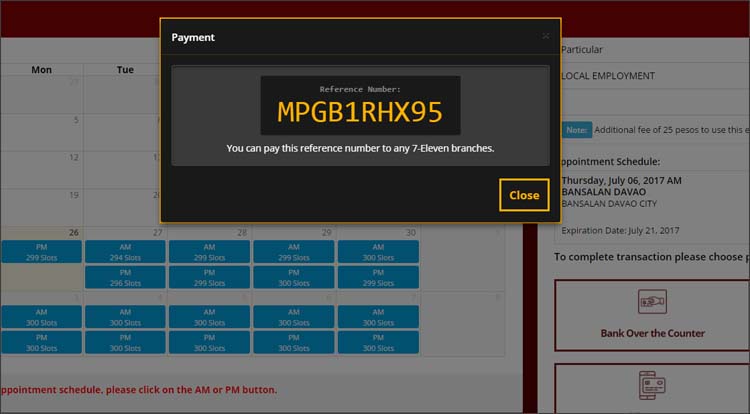 A Reminder and Transaction summary should be shown then the Reference Number to be used for payment.
If you chose to pay through 7-Eleven Store, just tell the cashier you are paying for an NBI Clearance. Give the REFERENCE NUMBER and Payment of ₱140 (₱115 NBI Clearance Fee + ₱25 Electronic Payment Service Fee).
9. Print the NBI Online Application Form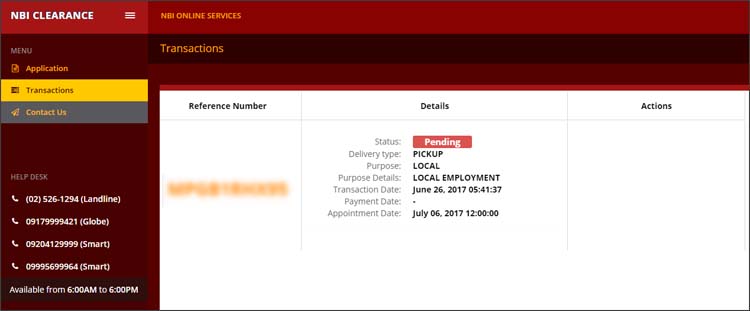 After the payment has been made, wait for at least 1 working day for the payment to be validated. Log-in to your NBI Clearance Account Online then go to the Transactions Menu located in the upper left corner of the webpage.
If the status is still PENDING, wait for it a little longer. If the status is PAID, click the DETAILS button and PRINT IT.
The final output of the NBI Online Application is the Printed Application Form with Reference Number. However, if you cannot print the application form, you'll be fine as long as you have your Reference Number. Either you write it on paper or take a picture of it using your phone. Then, proceed to the next step.
10. Go to the nearest NBI Branch/Center
After you have done the NBI Online Application, the next thing you have to do is to go to the nearest NBI Branch/Center in your appointment date. Make sure to wear proper attire and bring the requirements.
In the NBI Online Application, there is a confirmation on what ID you will present in the NBI branch. Make sure to bring that one and bring other ID just in case.
11. Proceed to fingerprint scanning and photo capturing
Politely tell the officer in charge, a guard or someone in the office that you want to get an NBI Clearance and you have already applied online (make sure to show your printed form to justify your claim). Most of them just want to check the Reference Number in the printed application form.
If you don't have the form, as long as you have your Reference Number written on paper or captured on your phone, it's valid. You will then be guided to fall in a queue (if there's any) to proceed for biometric fingerprint scanning and photo capturing.
12. Get Your NBI Clearance
When you are done, you'll wait again for a while for your name to be called. That's when your NBI Clearance be given to you fresh from the printer.
You'll be asked to check the credentials (name, address, age, gender, birthdate, etc.) before you leave. If there are errors, politely tell the officer and it will be done fast.
In rare cases, if you have a "HIT", that's when you will be given a small slip and asked to come back to the office in few days (as printed on the slip) to claim your clearance or to settle any issues.
That's the step by step guide on How to get NBI Clearance in the Philippines and a walk-through of the NBI Clearance Online Application. Hope it made you understand and see the bigger picture or overview of the entire procedure.