There are rare cases when someone requesting an NBI Clearance got a "hit" status which delays the releasing of the clearance for several days. Most of the applicants don't know what is a hit mark and what to do about it.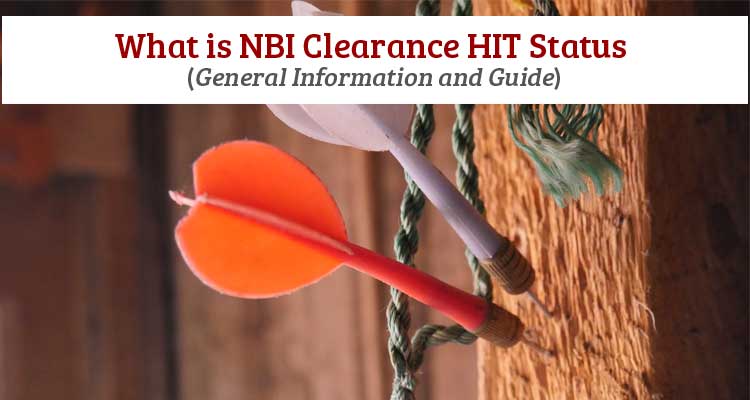 What is NBI Clearance HIT Status?
A "HIT" or "WITH HIT" status in getting an NBI Clearance is used by the NBI when the requester of the clearance has a pending criminal case filed against him/her in any of the Philippine Courts or the requester has a namesake (same name) with criminal cases.
Instead of releasing the clearance on the same day you process in any of the NBI Clearance Centers or NBI Branches, your receipt will be marked with the specific date and/or time you should come back again in the office. The waiting period is about 1 week or more.
This delay is because the NBI will conduct further investigation about you and your records. However, if you have a clean conscience and confident that you have not committed any criminal acts before, you should be fine.
What to do when you get a HIT in NBI Clearance Application?
Step 1.
The first thing you have to do is to show up on the date of appointment marked on your receipt. Bring at least 2 valid IDs and wear proper attire. Don't wear sando, slippers and shorts because you won't pass the guards in most cases. If you have a criminal case but the decision has been made, bring the original and photocopy of that document/s.
Step 2.
You shall undergo the Quality Control Interview. A NBI Personnel will ask you about simple personal questions about your name, address, do you have any criminal case, etc. If you are cleared and done, you will be given an Affidavit of Denial.
Step 3.
Fill up the Affidavit of Denial for NBI Clearance. Wait for the NBI Personnel to get your dully accomplished form/document.
Step 4.
You shall proceed to taking an oath in front of the Resident Lawyer while raising your right hand. You shall be asked again personal questions which you should answer honestly.
Step 5.
Once done, wait for your document to be notarized and a person-in-charge will give you the releasing time of your NBI Clearance.
Step 6.
On the time specified, proceed to the Printing and Releasing Area and get your NBI Clearance.
On the other hand, if the NBI found out the you have an existing pending case and the decision has not been made, you will be instructed to go to the court of origin and acquire a Disposition Clearance or Court Decision. Unless it is settled, you cannot get an NBI Clearance.
That was the general explanation about the NBI HIT Status. Should you have any questions, you may share it on the comment section.