NBI Clearance Online Renewal is a service of NBI that enables individuals who have an old NBI Clearance to easily renew it online. This is again another praise-worthy online service of NBI which makes processing and releasing of NBI Clearances faster.
Moreover, to be able to renew NBI Clearance Online, there are certain conditions that must be met such as:
The NBI Clearance Online Renewal is applicable only to those individuals who got their clearances on October 16, 2016 onwards.
This service is open for those individuals who still have their old NBI Clearance whether it is original or photocopy as long as the NBI ID Number is still readable.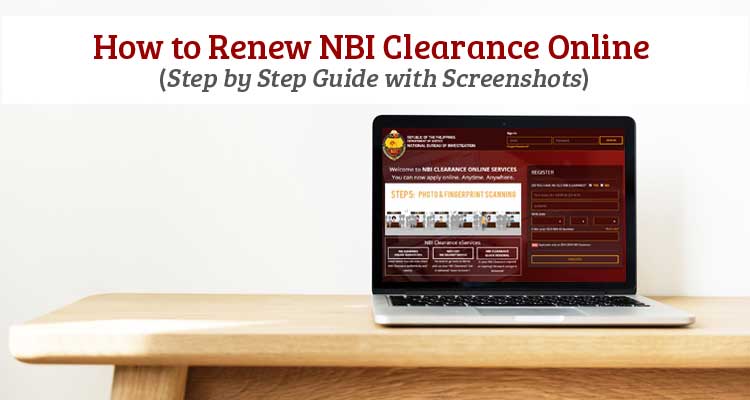 How to Renew NBI Clearance Online 2021
Step 1.
Visit the official website of NBI Clearance Online Services – https://clearance.nbi.gov.ph/.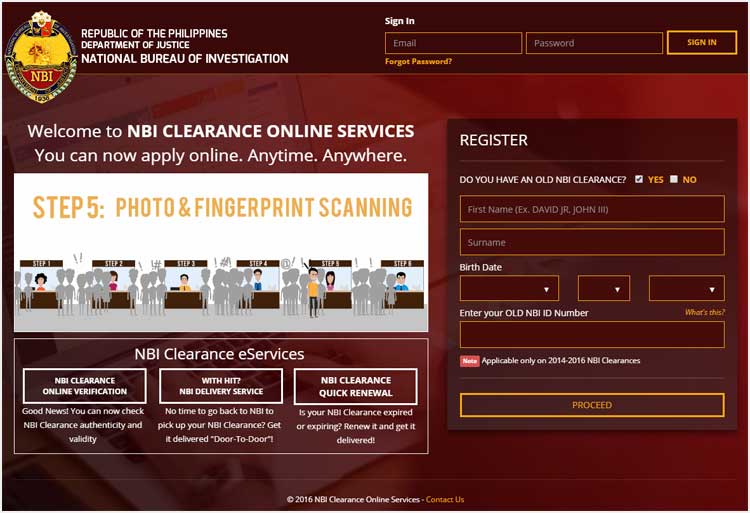 Step 2.
On the registration form, mark check the YES checkbox as an answer to the question – DO YOU HAVE AN OLD NBI CLEARANCE? Provide your first name, surname, birth date and enter your OLD NBI ID Number. Then, click on the PROCEED button.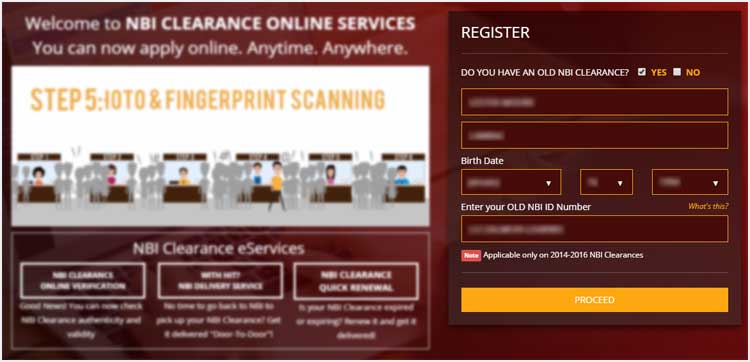 Step 3.
Once successful, slide confirmation message should appear saying "Data Successfully Retrieved". On the same form, you have to enter your email address and password. Click the checkbox for I ACCEPT TERMS OF SERVICE and click I AGREE. Then, click the SIGN UP button to proceed.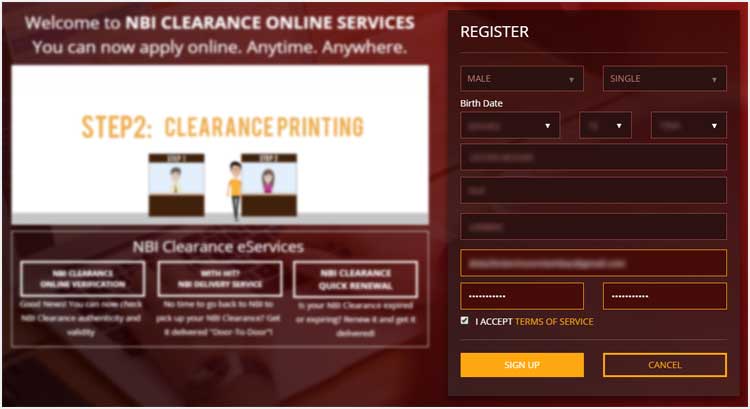 Step 4.
As you can notice, the Application Type is already changed to "RENEW". You may edit your application form by clicking the EDIT INFORMATION button found on the upper right corner of the page. Don't forget to click SAVE INFORMATION after you made some changes. If everything is checked and fine, click the APPLY FOR CLEARANCE button.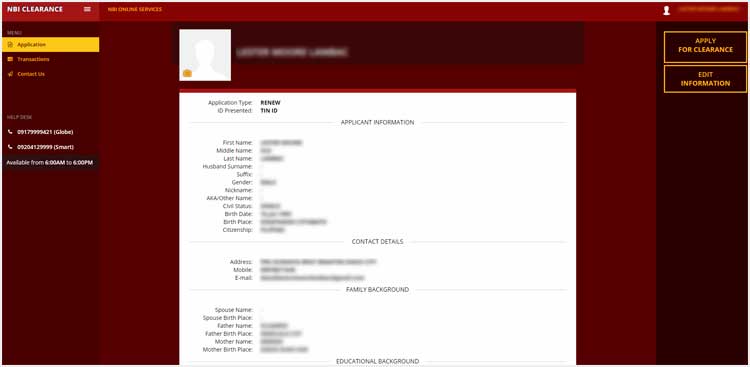 Step 5.
A confirmation box will be displayed allowing you to enter the ID to be presented in the NBI Clearance Center or NBI Branch to get the clearance. Example: Type in "TIN ID" and use that one as an identification when you go to the office to claim your NBI Clearance. Click the I Agree button to proceed.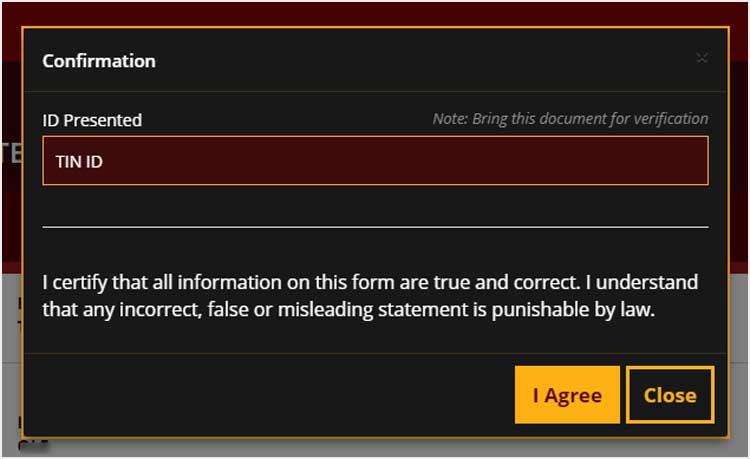 Step 6.
Read the Important Reminder and click Close button after reading. The next step you have to do is to Set an Appointment. To do this, simply select the NBI Branch you want to claim your NBI Clearance, Chose Time and Date on the Calendar, Set the Purpose and Purpose Details.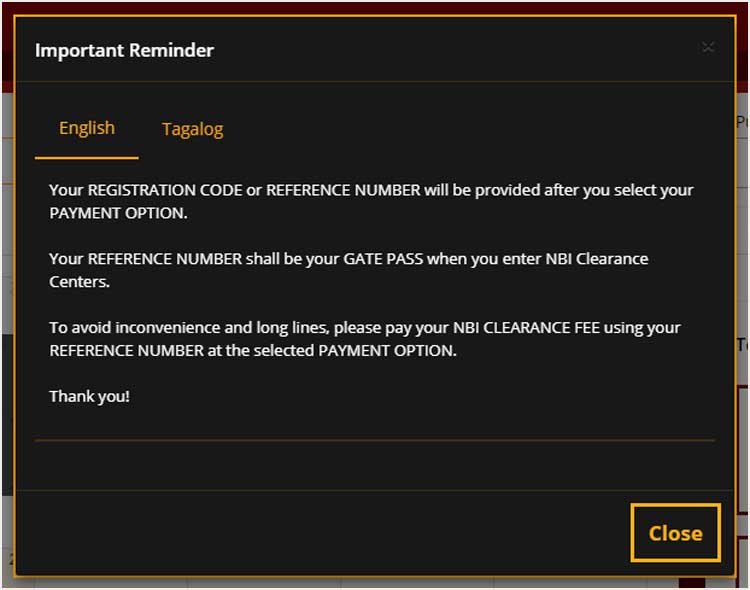 The NBI already started distributing the Multi-Purpose NBI Clearance. The specifications for it to be used only for Local Employment, Travel Abroad and the rest has been removed.
Step 7.
Complete your NBI Clearance Online Renewal by selecting a payment option. You may choose to pay at 7-Eleven Stores, ECPay, MultiPay, Bayad Center, Mobile Payment, Online Bank or Bank Over the Counter. Each option has its detailed instructions on how to pay.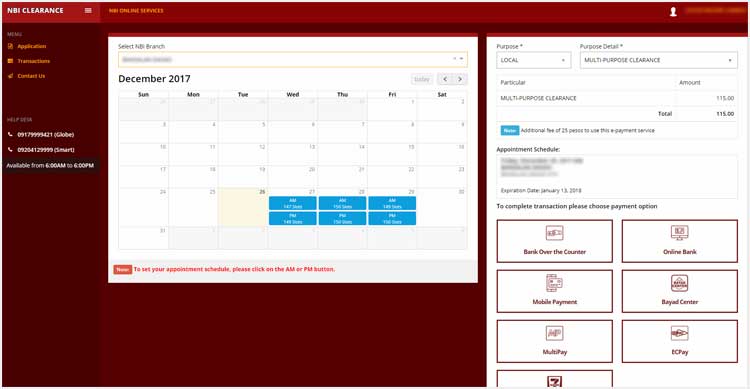 Step 8.
Process your payment. Say for example you choose to pay at 7-Eleven Store since it is easier. With your Reference Number (generated when you choose 7-Eleven as Payment Option), go the nearest 7-Eleven Store and tell the cashier that you are paying for an NBI Clearance then give the Reference Number.
Step 9.
After the payment has been made, go back to your account and see if the payment is already verified. You can check that by clicking the Transactions Menu. If it is PENDING, wait for it to change status to PAID. If the status is already PAID, click the DETAILS button beside it. Printing the application form is not necessary but you can still do it by clicking the Print Application Form button. However, you can just list down or take a picture of your REFERENCE NUMBER using your mobile phone.

Step 10.
On your appointment schedule, go the selected NBI Clearance Center or NBI Branch. Bring at least 2 valid IDs and wear proper attire. Politely communicated with an NBI Personnel and ask him that you are going to renew NBI Clearance. If the need arises, show your REFERENCE NUMBER.
That was the step by step guide on How to Renew NBI Clearance Online. Should you have any questions, you may use the comment section below.