In order to complete the NBI Clearance online transaction, applicants must pay the request fee with a fixed costs of ₱115. As of the moment, there are seven (7) payment options available for this "e-payment service."
At first, most people find it confusing due to many options not familiar to them. For the general public, there are options where you can go to the store and pay over the counter or do it online though online banking.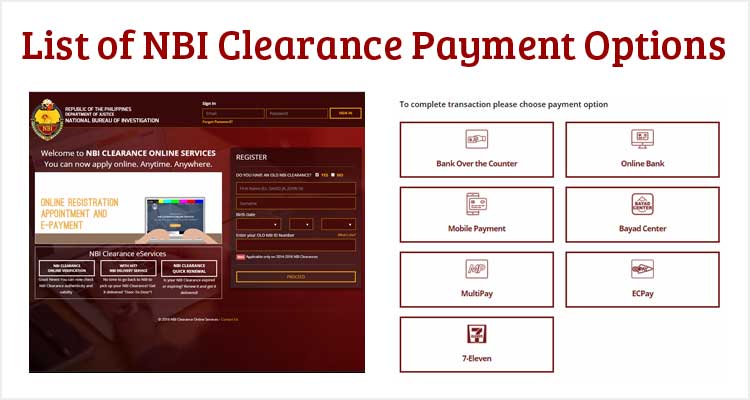 The list below starts from the easiest option according to most applicants and to the most convenient for "techy" people.
List of NBI Clearance Payment Options
1. 7-Eleven
The easiest way to pay for the NBI Clearance Fee is go to the nearest 7-Eleven Store then give your Reference Number indicated in your application.
2. Bayad Center
Another payment option is to go and pay to any Bayad Center Outlets or their partners including:
Cebuana Lhullier
SM Savemore
LBC
Robinsonz
eBiz
Petnet
Landmark
Waltermart
Isetann
Sta. Lucia East Mall
USSC
And selected branches of but not limited to:
Villarica Pawnshop
Palawan Pawnshop
Philspost
Prime Asia Pawnshop
2GO Express
Tambunting Pawnshop
Raquel Pawnshop
Direct Agent 5
CVM Pawnshop
Sinag Pawnshop
San Roque Supermarket
Luzon Development Bank
Citystate Bank
Go Beyond Expectation Remittance Co
3. ECPay
It is also possible to pay in any Electronic Commerce Payments, Inc. (ECPay) partners such as:
Express Pay Inc.
RD Pawnshop
H Lhuillier Pawnshop
Auto Top-Up Ventures Inc.
Viaexpress Inc.
Petron Corporation
San Mig Food Avenue
Global Access Financial Services
RFC
Shopwise Wellcome
Metro Gainsano
Prince Warehouse Club, Inc.
NCCC – LTS Supermarkets
Eneterprise Bank Inc.
Magic Appliance Center, Inc.
4. Mobile Payment
The NBI Clearance Payment can also be done using your Globe Gcash. Just make sure you have enough load. Another ₱10.00 service fee will be added.
5. MultiPay
MultiPay is a new payment channel innovation of Bayad Center. You must have a Multipay Wallet Account and available load in your Multipay Wallet in order to use it. You can register at www.multipay.ph.
6. Bank Over-the-Counter
Applicants can also pay Over-The-Counter to any BDO, BPI, Metrobank and Unionbank branches.
BDO – Perform a Cash Deposit with Reference Number at any BDO branch. Payments are automatically processed after a few minutes. NOTE: A P25 Service Fee will be added. Choose a different bank if you do not agree to this fee.
BPI – Pay cash over-the-counter at any BPI branch through Bills Payment. NOTE: A P50 Service Fee will be added. Choose a different bank if you do not agree to this fee.
Metrobank – Deposit your cash or on-us check payment over-the-counter at any Metrobank branch nationwide. Branches outside Metro Manila may charge handling fee.
Unionbank – Deposit your payment over-the-counter at any Unionbank branch nationwide.
7. Online Bank
Applicants who are using Dragonpay Mobile App or banking online with BDO, BPI, Metrobank, RCBC, Unionbank, UCPB have options to pay using their online banking accounts. Along the app or bank option are specific guides on how to do it.
Among the list, NBI Clearance Payment through 7-Eleven and Bayad Centers are the most chosen options. As of the moment, there is no direct way to pay using a Credit Card or Master Card.
That was the List of NBI Clearance Payment Options. If you have any doubts or encounter any problem with your transactions, do let us know in comment below so we and the readers can extend any knowledge-based assessment.