A Barangay Clearance is a government-issued document in the Philippines. It is used to certify a person with good moral character and a law-abiding citizen of a certain barangay. Getting a Barangay Clearance is easy and fast that can be completed in 20 minutes or less.
This document is commonly required in processing legal and financial transactions in the locality. This includes but not limited to a requirement for Local Employment, Government Agency Transactions, Travel Abroad, Police Clearance, NBI Clearance, Loan Application, Scholarship Application and several others.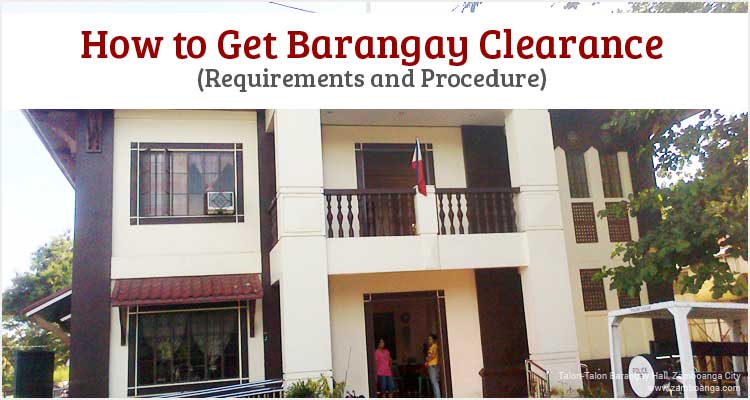 Barangay Clearance Requirements
Before processing your Barangay Clearance in the Barangay Hall, make sure to acquire and prepare the following:
Recent Cedula (Community Tax Certificate)
Cash for Barangay Clearance Fee
Application Form (Shall be given in the office)
Black ballpen
The recent cedula can also be acquired in the Barangay Hall. The clearance fee varies in every barangay but it should not cost that much. Usually, it is less than ₱100.
How to Get Barangay Clearance
Go to the Barangay Hall in your area and bring the requirements mentioned above.
Politely ask the Barangay Secretary or assigned officer that you want to request for a Barangay Clearance. You might be asked few questions such as the purpose of your request, your address, how long you have been residing in your area among others.
You will be given an application form that you need to fill-up and give it back to the assigned officer once its done.
Pay for the Clearance Fee to the treasurer or assigned officer.
If your name is clear of any bad records, your Barangay Clearance will be printed and you'll be asked to put a thumb mark and a signature.
Wait for your clearance to be signed by the Barangay Captain and/or representatives, stamped and sealed with Barangay Official Seal.
Claim your fresh Barangay Clearance after few minutes.
Your Barangay Clearance should contain your name, address, request purpose, date issued, thumb mark and signature. Make sure it has a signature of the Barangay Captain, stamped and sealed with the Barangay Official Seal to make it valid.
That was the requirements and procedure on How to Get Barangay Clearance. Should you have any concerns, do let us know in comment section.